OUR SATISFIED CLIENTS:
EMAIL DIANADAYMONDCAA@GMAIL.COM TO JOIN THIS LIST
---
UNIVERSITIES WHERE OUR CLIENTS HAVE BEEN MEMBERS OF THE SWIM TEAM
BROWN MICHIGAN UC BERKELEY
YALE STANFORD UC SAN DIEGO
HARVARD AUBURN UC SANTA BARBARA
PRINCETON SYRACUSE UC IRVINE
RUTGERS FORDHAM UNIVERSITY OF ARIZONA
RICE INDIANA UNIVERSITY OF TEXAS
USC WISCONSIN WELLESLEY COLLEGE

HAWAII AMHERST JOHNS HOPKINS
UCLA WILLIAMS OCCIDENTAL

---
Swimmer Testimonial for Ray Mitchell
"
Ray Mitchell is one of the most talented swimming coaches in the United States. He has helped many high school swimmers reach their highest goals in swimming and has coached them to swim fast enough to compete at the United States' top universities. Since Ray has coached so many high-achieving athletes over the years, he has had the opportunity to guide countless swimmers through the process of choosing a college. Ray knows almost every college coach in the United States on a personal level, and they all respect him professionally. Ray has developed a solid Recruiting Program to help athletes select colleges and prepare for college interviews, and has simultaneously helped college coaches realize what each of his swimmers has to offer in terms of talent, work ethic, leadership ability, and scholastic success.
I swam for Ray Mitchell for 15 years, and he helped me achieve both my swimming and professional goals. I attended Stanford University on a scholarship. Ray took the time to sit down and weigh the pros and cons of each college for me specifically. Together we narrowed my college choices down to ten by the end of my junior year, and finally five before the beginning of my senior year. These choices were based on my swimming strengths, the strength of each college coach for my continued swimming development, and the ability of the college to meet my academic goals. Then he talked with each of the coaches at the schools in which I was interested, so that by the time I received my first phone call on July 1, the coaches already knew all about me. Even after my recruiting trips, Ray was consistently there to help me through the anxiety of making my final college decision. His close contact with the coaches and his understanding of the recruiting and admissions processes allowed me to focus on making my decision about where to attend college rather than about how to make myself known.
Ray's expertise made the college admission process as painless as possible. I felt very successful swimming for Ray Mitchell, and I feel that he played a huge part in getting me into the college of my dreams and allowing me to achieve my academic and swimming goals simultaneously."
Laura Davis: Stanford University Swimming Scholarship Recipient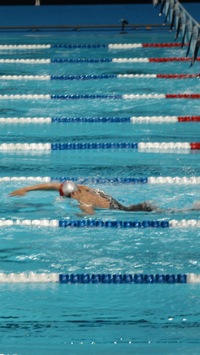 ---
Parent Testimonial for Diana Daymond
"Diana Daymond was instrumental in our fully understanding the college recruiting process and how important it was to have a clearing thought out academic, swimming and SAT test strategy at the end of one's freshman year. She provided us with her own family's first hand experiences in getting her children into Princeton and Wellesley and emphasized the importance of an overseas swimmer (in our case based in Hong Kong) developing a strong relationship with a USA based swim coach and competing in USA Swimming competitions during the summer months. Without Diana's continual guidance over several years and timely follow up emails, we may have missed the tremendous opportunity that our daughter achieved in being first granted a coveted Likely Letter and then Admission to Harvard."
James and Yuni Robinson: (Parents of a Hong Kong Swimmer)

---
Swimmer Testimonial for Diana Daymond
"Without Diana Daymond's help I would have never been able to make my dream of attending an Ivy League school come true. I did not realize the potential I had with swimming and what benefits I could gain by using my ability. I was completely lost on how the college recruiting process worked, but with Diana's help and guidance, I managed to successfully be recruited by Harvard University. I absolutely love it here and I owe so much to her. Her own son having gone through the process, Diana is extremely experienced in college recruiting and knows the "inside stuff" that you would never find from a book. I highly recommend that people take advantage of her expertise in order to greatly increase their chances of being accepted by the school of their choice. It personally was an extremely gratifying feeling to know that I had a secure spot in a university long before other students in my year did."
Hong Kong Swimmer: Harvard University
---